The Robin's Nest
Truly Gourmet Breakfasts
---
In our opinion the title "Bed and Breakfast" should be much more than mere words. While such descriptives as adequate, acceptable, pretty good etc. might be alright for furnishings and decor, the beds HAVE to be comfortable and attractive and breakfast HAS to be great!

An early morning coffee, tea & juice service, complete with daily newspapers, is set up by 7:00 a.m. every day. On weekends we offer breakfast at both 8:00 and 9:00 a.m. During the week we also offer 7:00 a.m to accomodate our working guests.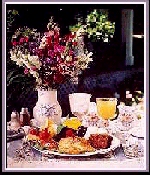 Our freshly cooked breakfasts consist of 3-4 courses. We avoid serving our guests the same breakfast on any given visit no matter how many days they stay.

We strive to make our breakfasts unique and interesting without sacrificing taste or nutrition. We use only high quality ingredients. Our fare includes traditional, ethnic, vegetarian and neuveaux.

Daily chilled fruit soups & weekend desserts make our breakfasts unique.


If you have dietary restrictions, are a vegan or vegetarian just let us know when you book your reservation and we'll be happy to accomodate your special needs.
---
A few examples of breakfasts we serve on a regular basis:

| | |
| --- | --- |
| Kiwi florets | Glazed Papaya |
| Croissants | Corn Bread |
| Plum Cantaloupe Soup | Mango Starfruit Soup |
| Eggs Benedict, Country Potatoes | Huevos Rancheros |
| | |
| --- | --- |
| Cantaloupe pinwheels | Strawberries |
| Bread Sticks | Blueberries & Cream Soup |
| Banana Strawberry Soup | Gran Marnier French Toast |
| Shirred Eggs Florentine | Scrambled Eggs & Bacon |
| | |
| --- | --- |
| Ruby Grapefruit | Glazed Starfruit |
| Brioche | Biscuits |
| Peach Amaretto Soup | Kiwi Strawberry Soup |
| Fritatta & sausage | Ham & Cheese Studel |
---
Home